Texas might not be the place that comes to mind when you think about hip-hop but the genre is very much alive and present in the region. Hip-hop duo Tribe Mafia – Chinasa Broxton and Carlos Dashawn Moore – are based in Austin and are considered to be "hometown heroes" when it comes to moving the hip hop genre forward in the region.
Within a short couple of years, the duo has released a handful of hit tracks, collaborated with a variety of well-known artists, and even toured the world performing with Akon. The Greater Austin community knows Broxton and Moore for their Listening Parties, a quarterly showcase and a platform for other upcoming artists to promote their talent and network with like music fans.
Carlos got into music through discovering he had a talent for writing poetry in high school while Chinasa found his way into Tribe Mafia by the way of beats and freestyle. The group had originally begun with 4 people but as the years past they shrunk in size and grew in ambition, working their way through Austin's entertainment and hospitality scene, building relationships and setting the scene.
Earlier this year Tribe Mafia released a new record, Teepee Gang, and while they too are staying put in self-quarantine we caught up with the duo over the world wide web to discuss their partnership, writing music for Netflix' Tiger King, and other blessings.
Kateryna Topol: Hello Chinasa and Carlos, what are you doing with your time these days?
Tribe Mafia: This week we have been adapting to the life of living in quarantine. We normally like to check in with our fans because they are like family to us, we often refer to our fans as our Tribe, so we have recently engaged with our supporters via Instagram live. Right now we spend most of our time writing new music, promoting the newest LP Teepee Gang, and finishing up the new Dancehall EP' It's a Tribe Ting, which we'll be releasing this summer. We are also catching up on some of our favorite shows such as How To Get Away With Murder, All American, Money Heist, Narcos Mexico, and Blackish. 
KT: That's a great list of binge-worthy shows! Let's step back a little – when did you two first meet and start working together?
TM: We met each other randomly playing a pick-up basketball game at our neighborhood park in Pflugerville, Texas. Shortly after walking home together, we noticed that we were walking in the same direction and then realized that we were literally next-door neighbors. Being involved with basketball really helped developed our friendship. We were both extremely popular in high school. There was even rumors that we both took the same girl to prom, which is a funny story for another time. Everyone knew us either by theatre, talent shows, bathroom rapping, or basketball.
In high school, we first began working together after we initiated a rap group name C.3.S.T which was basically a band of all the popular kids who was considered 'rappers' in various high schools in the Austin area. After some time, we noticed that a lot of the group members weren't as committed as us. In result, we dropped from the rap group C.3.S.T, and established our own musical group, named Mix Breed Bro's (M.B.B.). At the time we thought we had the coolest rap group name. Then we were told by our parents that the group name wasn't reflective to us and it made us appear as 'softies.' After various trial and tribulations, we came up with the name Tribe Mafia…
KT: How does the collaboration work, from idea to production between the two of you?
Chinasa Broxton: I love writing the melody and doing hooks. I think my strong point is creating a chorus that will be contagious enough for others to sing along to. I think we do a really good job of balancing the dynamics of how we create music. I would make a simple catchy hook, and he will deploy explosive lyricism. I normally write a chorus and sing it to Carlos to see if he can vibe with it.
Carlos Dashawn Moore: Chinasa is good at making a song sound like something that will be radio-friendly because of how he constructs his choruses. So my job is to basically execute the heat with the bars. I think the ideal production we create is knowing where we are both good at and using that to our advantage. We are able to explore various styles of making music because of our writing styles and influences.
KT: Very cool. Your debut LP Teepee Gang dropped not too long ago – congratulations on that! What's the plan for the rest of the year?
TM: Our ideal plans for the rest of the year is to keep creating more music videos for the songs that are on Teepee Gang. So far we have completed and released three music videos out of the 8-track LP. Our other plans are to release the second project in the summer of 2020, the dancehall EP It's a Tribe Ting. [We're expecting a lot of] success from that project as well. If you loved our song "Like Cola," we will have more tunes like that on this project. And for the fall of 2020, we will be dropping our debut album Wampum.
KT: That's quite a bit to do! In the past, you've had the opportunity to tour around the world with Akon, tell us a bit about that…
TM: Touring with Akon in Sao Paolo, Brazil was fun! If we could go back, we'd have a one-way plane ticket there rushed in a heartbeat. We went from performing at small venues with crowds of sometimes 30-100 fans to 60,000 + raging fans at one of the largest sound stage arenas in Brazil. Our excitement to even go back to that memory is unfathomable. We've never experienced fans speaking to us in Portuguese and wanting to rip our clothes off as we sung to them. We had fireworks, a catwalk, background dancers, and shirts to throw out to the audience. We literally lived our dream that many indie artists yearn for.
The tour came into action as we were in the peak of promoting "Like Cola" which now has struck over 1 million views on YouTube. We were asked by one of Akon's show promoters via Instagram. They ended up speaking to our team and then passports and hospitality expenses were spoken into existence and then we went to Brazil.
KT: What a great story! I read in Indie Hip Hop that you landed a soundtrack deal with Tiger King?
TM: Yes! We are excited, this will be our first track to debut on Nextflix. In our opinion, we think they reach out to a bunch of indie artists, generally because we are cheaper for licensing music. Once we receive the file that they will like us to use, we will begin working on that immediately.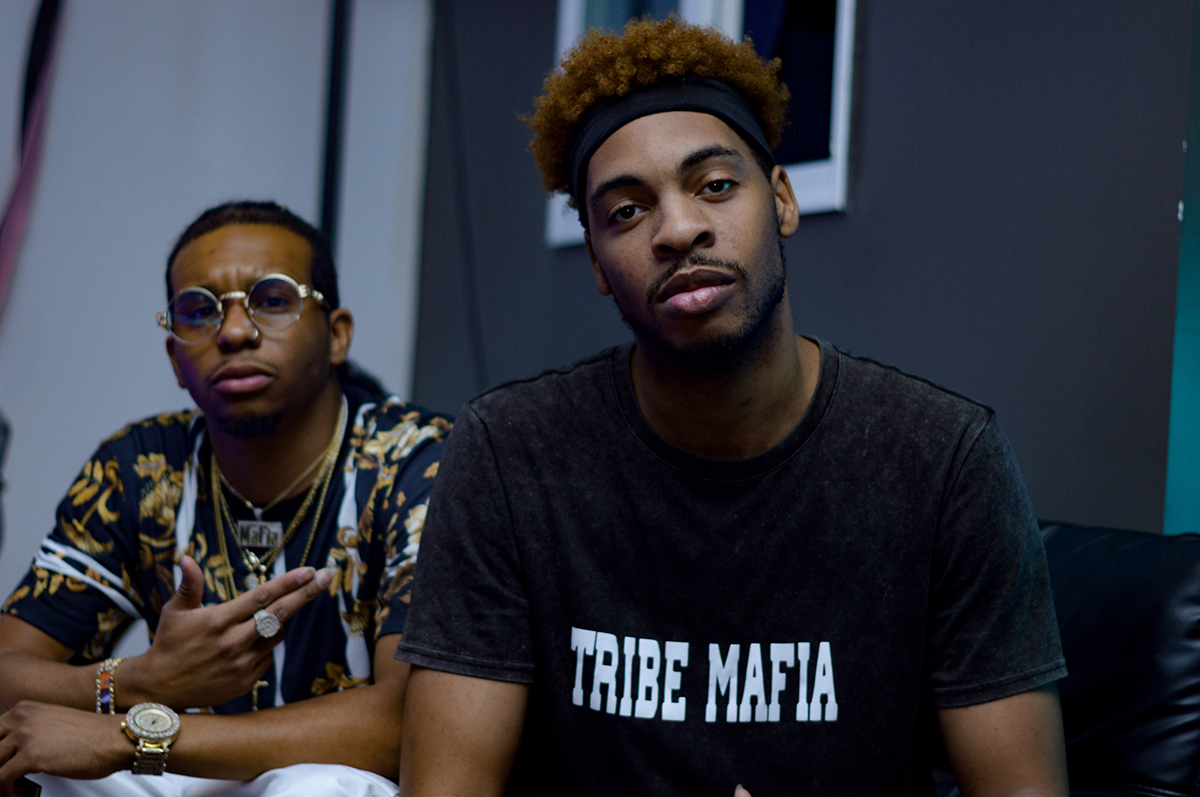 KT: You've told VoyageLA that traveling is one of your favorite things to do, do you find inspiration through traveling…
TM: We love traveling! You get to explore so many interesting customs that are not always available in your hometown. We find that a lot of our songs are highly influenced by where we go when we are on the road. We actually created a song that's called "Travel the World" that we wrote just because of our passion for traveling. We have a love/hate relationship with flying and we hate driving long distance, but it beats having your plane lose turbulence and malfunctioning in mid-air due to low maintenance. We nearly had a couple life and death situations flying in 2019.
KT: Wow scary. What are some of your favorite places?
CB: Favorite places that we've visited in no order would have to be Sao Paolo because of their food selection. Chinasa is a vegetarian, so finding places that we can both agree on to eat can be frustrating. We also enjoyed our stay at Las Vegas, not only did we get to enjoy gambling we got to really experience the nightlife. The lights were mesmerizing, and the street entertainment was incredible. Also, Elgin inTexas solely for having the best vegan and regular BBQ.
KT: And how is it performing in different cities to different audiences?
TM: Performing at different cities can be fun and experimental for us to see what type of crowd we get to engage with. Typically, after analyzing our crowd's energy after the first song we are usually able to determine how we interact with the audience. We always have a goal of leaving an impression wherever we perform.
KT: Any memorable performances?
TM: There was one show we did in Los Angeles, and the speakers blew out. Most rappers would usually get mad at the DJ and walk off the stage. But what we did was kept rapping a capella. After that performance we remember so many people running up to us saying thank you, the DJ gave us a huge hug and told us 'thank you for not making a scene.'
KT: Good save. A couple of your songs "Like Cola" and "Triple Double" have played on public radio – do you remember hearing your track on the radio for the first time – how did it feel?
TM: At the time of us hearing "Like Cola" and "Triple Double" on the radio we were not phased at all. Everything was happening so fast, we were getting ready for label meetings with Atlantic Records, we had to practice with our publicist for the interviews with Shade 45, This is 50 and power 105. After hearing our song on the radio, we kind of just brushed it off. Now that we are processing all of our accomplishments during this time of quarantine, we are actually quite mind blown and ecstatic.
KT:

Who are some of the artists you've collaborated with?
TM: Some of the favorite artists we have collaborated with are Sam Sage, LeekThough, Hitta Castro, RJ Maine, Royal Family, Mama Duke, DJ La Moon, and FULLYMAXXED.
KT: Who would you like to collaborate with?
TM: We would like to collaborate with more of our Texas local stars such as Yella Beezy, Lil'Flip, Quin NFN, The Teeta, J Soulja and Ahbi The Nomad. In the future, we wish to collab with bigger name artists such as Post Malone, Drake, Lil Wayne, Chance The Rapper, Cardi B, Swae Lee, French Montana, and Rick Ross.
KT: Let's talk about your "Listening Parties" – how did that start?
TM: Our Listening Parties started shortly after we got Verified on Instagram. We wanted to provide an intimate space for emerging local artist to showcase their talents. In 2019 we performed at over 100 events. We notice at the small events we attended, some artists' were struggling on how they spoke to the audience, or how they would hold their mic's incorrectly, or how the crowd wasn't giving them their undivided attention. With our listening party, we provide free food and drinks for the guests and artists will be interviewed by radio stations live at the event. We also had a live broadcasting TV show at our event conducting interviews. We pay the showcasing artists who are involved and then donate the rest of the proceeds to the Austin ARCH (Austin Resource Center For The Homeless). We figured if we do this for our city maybe our city will actually have a prominent essence of many successful Hip Hop Artists. Austin Texas is specifically known to be the Live Music Capitol in the world but that doesn't include our fellow rap Mc's. We are here to change that.
KT: Are they all in Austin, do you plan to take those events on the road?
TM: We do, once we feel like it is ready. Our "Tribe Mafia Listening Party Vol. III" was set for this month, however, due to COVID-19, we rescheduled it for the safety of our community.
KT: In the past, you've said that hip hop music scene in Austin is a work in progress, but you still found a way to make a name for yourself at home, how has it been coming up there, as a hip-hop duo?
TM: Yes, the emerging scene in Austin is unquestionably a work in progress, but it's surely seeing a pivot turning point for us. We was recently awarded with the Local Artist of The Year award on live television by the Austin Film Society at the Austin Public | Austin Film Center. We know we still have a long way to go, but we are continuing to build relationships and establish ourselves daily. We think at this pace we are moving in the right speed and will be where we want to be in no time.
KT: Awesome, very exciting! Thank you for your time Carlos and Chinasa!
TM: Thank you so much for having us! These questions really opened up our minds on how blessed our journey has been for us. Happy Easter to you as well!